If you often switch to new ringtones on your mobile phone, then here is a smart and useful app for Android users, which allows you to easily make ringtones on the fly. You no more need to first create a ringtone on your computer, using a dedicated ringtone maker and then transfer the tone to your phone.
Ringdroid is free and very popular app for Android that lets you directly Create ringtone, alarm, or notification sound from your existing music library, or record a new one directly on the device. Supported audio file formats include: MP3, WAV, AAC/MP4 and AMR.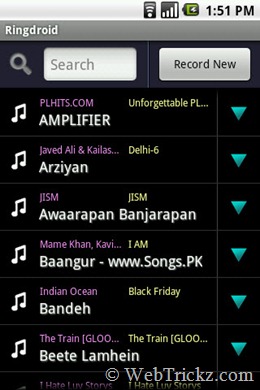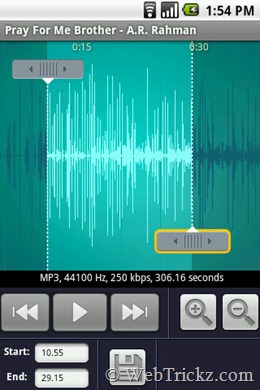 Creating ringtones with Ringdroid is a real fun, just select the audio file and choose edit. A waveform will be presented where you need to set the start and end marks, the highlighted portion will be transformed into ringtone that you can listen before saving.
Features:
View a scrollable waveform representation of the audio file at 5 zoom levels
Play anywhere else on the waveform by tapping the screen
Save the clipped audio as a new audio file and mark it as Music, Ringtone, Alarm, or Notification.
Record a new audio clip to edit.
Set a desired Start and End time.
Shows the file format, bitrate, and length of audio file selected.
Directly set the ringtone as default or assign it to a contact.

Though the app mentions that it can record a new audio, but the Record function didn't worked at all when we tried it.
Download Ringdroid from Android market or use the given QR code.