Mozilla has now revamped the interface of its Firefox Add-ons webpage to a new cool look. They have also introduced a new feature as "Collection". If you are a Firefox fan and mostly use Firefox add-ons aka extensions, then it's the best way to share your add-on collection.

Collections are groups of related add-ons assembled for easy sharing. It allows you to list all your most favorite firefox add-ons on a webpage and share then over the web or your friends.
To create your collection, you need to Register or login at Mozilla. Then visit create collection page and create one for you. To add a particular add-on to your collection, simply visit the add-on page. Now, at right side select your collection and click Publish.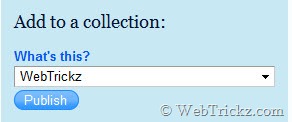 Now you can add any add-ons to your collection and share them using your collection link.
See My Firefox Add-on Collection      via   [TechRaga]