A lot has been highlighted about the serious vulnerabilities discovered in most versions of Internet Explorer. It is said that this security hole in IE was exploited by hackers in China to pose attacks on Google and other big US companies.
A Security Bulletin MS10-002 out-of-band is now released to address vulnerabilities in Internet Explorer. This security update is rated Critical for all supported releases of Internet Explorer: IE 5.01, IE 6, IE 6 SP1, IE 7, and Internet Explorer 8 (except IE 6 for supported editions of Windows Server 2003).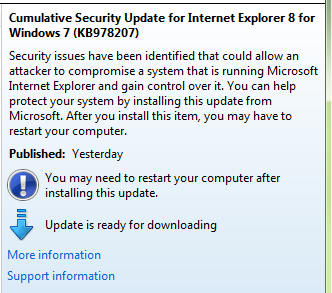 All users using currently supported versions of Windows and Internet Explorer should apply this update as soon as possible. Once applied, you are protected against the known attacks that have been widely publicized. This update will also be available on automatic updates.
You must download this Update now for your desired version of IE & Windows.