SmartDefrag is a free windows defragmenter utility with features that other free defragmenters cannot offer, with highest disk performance and better fragments prevention.
Note: The main cause of slow and unstable computer performance is due to disk fragmentation. To improve the efficacy of the hard drive and optimize the system's performance, users need to carry out defragmentation of their hard drive periodically.
Smart Defrag not only defragments computer deeply but optimizes disk performance. With "Install it and forget it" feature, Smart Defrag works automatically and quietly in the background on your PC, keeping your hard disk running at its speediest.
Comparison chart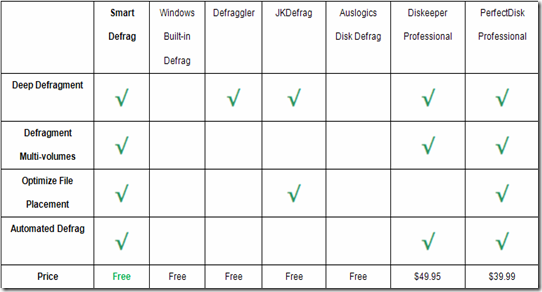 SmartDefrag Key Features :
Extremely Easy to Use
Exceptionally Efficient Defragmentation
Optimize Disk Performance
Always-on to Work Automatically
Data Safe and Reliability Guaranteed
Free Defragmenter Forever
Now keep away your PC from Slowing down, freeze-ups and crashes. Smart Defrag is 100% free for home, organization, and business.
[Download IObit SmartDefrag ]               via  [ Raymond ]