Free Wipe Wizard is a free tool that erases private files and wipes sensitive information in a simple, secure, and efficient manner. The erased information will hold secure and no data recovery tool can ever restore the contents of the file – guaranteed!
In their own words –
We are completely confident in our software because we used the US Government standard seven-pass wiping to overwrite your data in a theoretically proven, completely tested, cryptographically secure way. A cryptographically strong sequence of random numbers is generated for each wipe, making it absolutely impossible to access the erased information even if your hard drive is disassembled and viewed under an electronic microscope.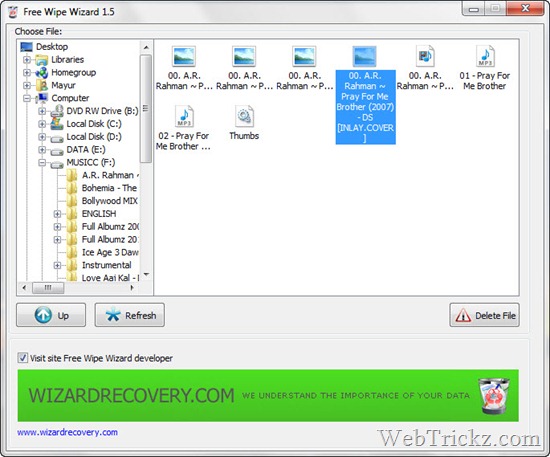 It supports NTFS, NTFS 4, NTFS 5, FAT12, FAT16, FAT32, and VFAT file systems.
One drawback I found is, it doesn't allow to delete several files at the same time and does not shows any confirmation dialog box after clicking the 'Delete File' button.
Download Free Wipe Wizard  [Works on All Windows OS]