The culture of digital payments is booming in India since the launch of Digital India campaign by the government of India, led by our prime minister Mr Narendra Modi in July 2015. The campaign was created to empower Indians with an improved digital infrastructure and Internet connectivity to facilitate the use of services digitally on multiple fronts. Leveraging the opportunity, DBS Bank, Singapore's largest bank and a leading bank in Asia launched the first mobile-only bank "DigiBank" in India. DBS wanted to change the ongoing trend of conventional banking with this revolutionary approach.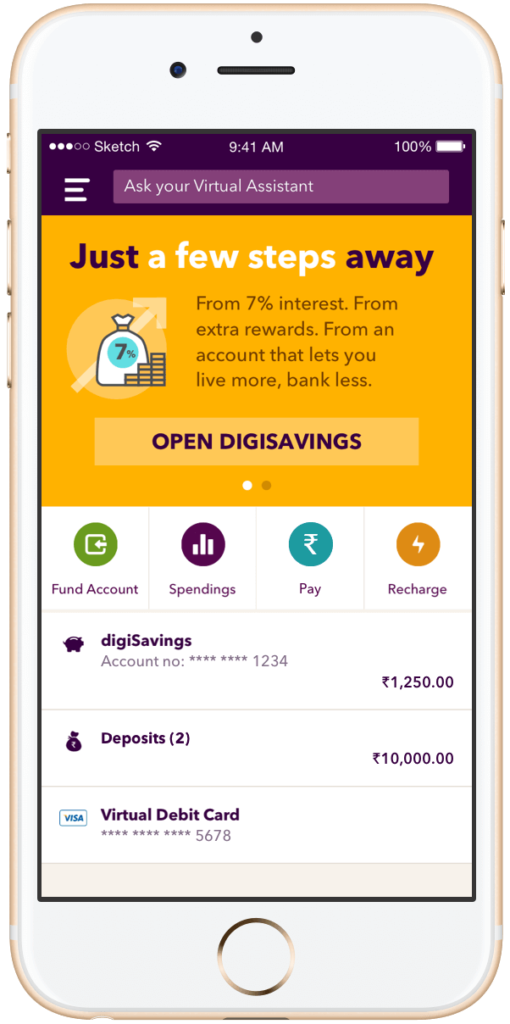 Talking of digiBank by DBS, it offers a hassle-free and is the fastest way to remotely open a bank account without the need of filing any forms or visiting the bank branch to get the cumbersome job done. digibank is India's first "Digital only bank" that provides a completely paperless and signature-less solution to get an account opened in just 90 seconds, right from the comfort of your iPhone or Android phone. digibank has a handful of competitors such as Kotak 811, ICICI pockets and Federal bank's Fedbook but some of them either come with certain limitations or doesn't offer the exact same service.
digibank offers a 2-way solution with the digibank e-wallet and digiSavings. The digibank e-wallet can be used to pay phone bills, electricity bills and make recharges. Moreover, users can shop online with a VISA virtual debit card. Cashback offers and discounts can also be availed while shopping. However, converting from digibank e-Wallet to digiSavings offers additional benefits such as 7% interest, no minimum balance requirement, zero maintenance fees, unlimited free ATM cash withdrawals, and a physical VISA debit card is also provided. Upgrading to digiSavings account is easier than you can imagine without requiring any physical documents or going to a bank branch. digibank makes use of your Aadhaar card, PAN, and fingerprints for verification which can be done simply at any DBS branch, Cafe Coffee Day or by requesting an agent's visit at your location.
Other interesting features by DigiBank include:
The app integrates a 24×7 Virtual Assistant, powered by artificial intelligence that understands natural language and has learning ability, that makes it able to respond in real-time. This smart service holds answers to 10,000+ banking-related questions, like "What is my account balance?".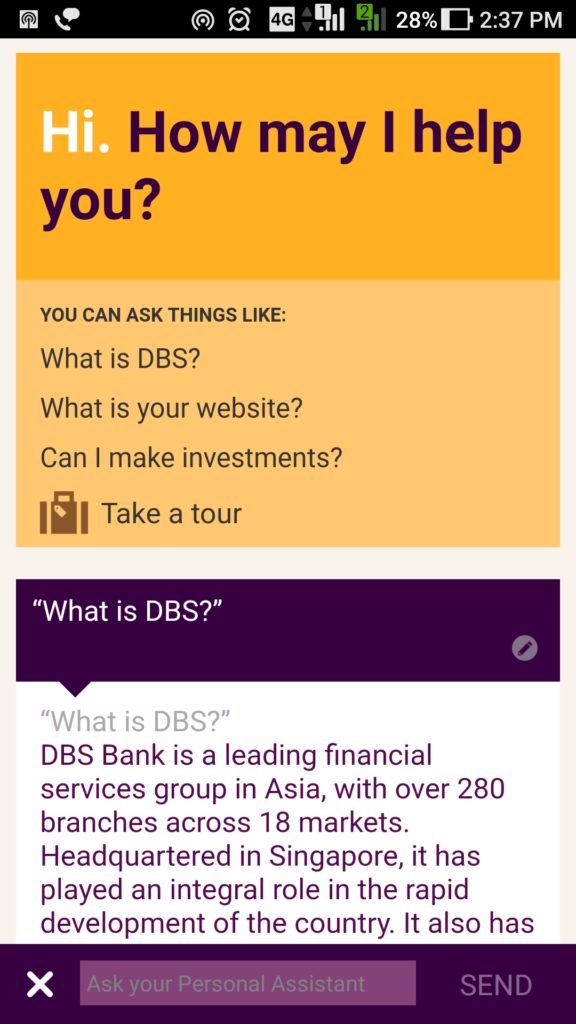 Option to enable or disable debit card instantly the from the app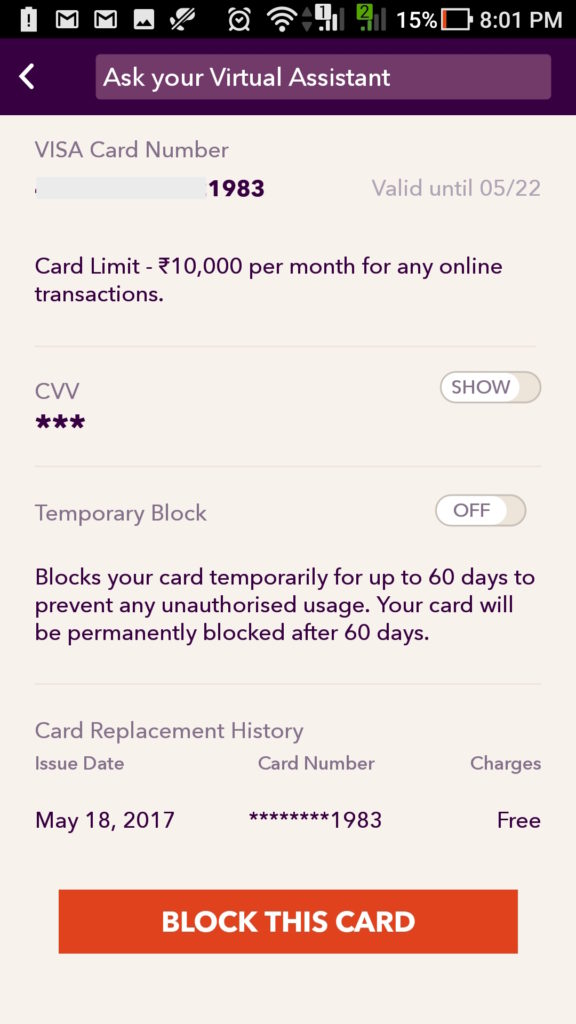 Inbuilt dynamic security which is convenient and safer than OTP. digibank has an embedded soft token for security, which avoids the need to wait for SMSs to arrive with an OTP.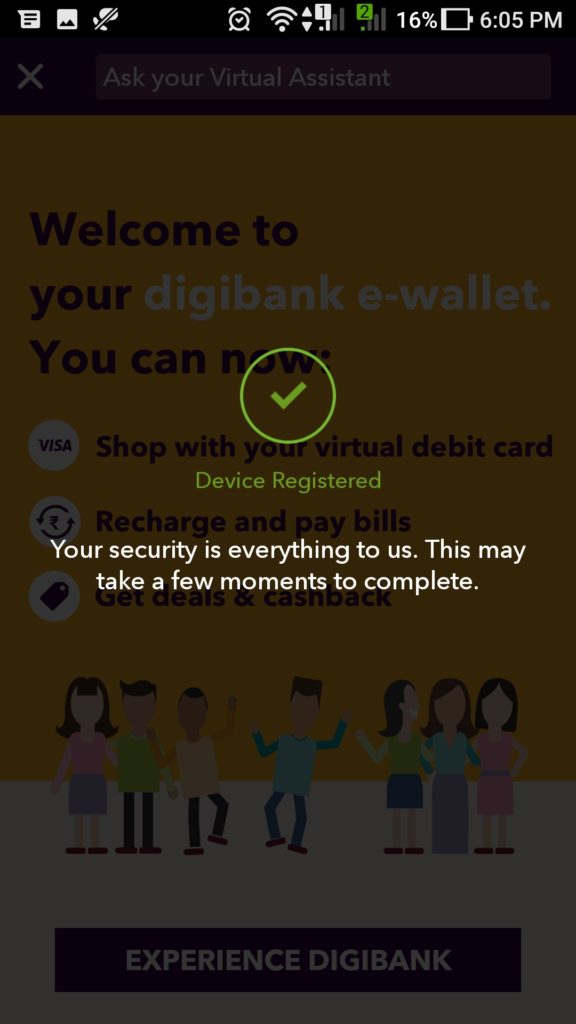 The intelligent inbuilt budget optimiser offers an intuitive way to manage your budget, track expenses, and analyse purchasing patterns. It even provides recommendations by understanding your behaviour and preferences.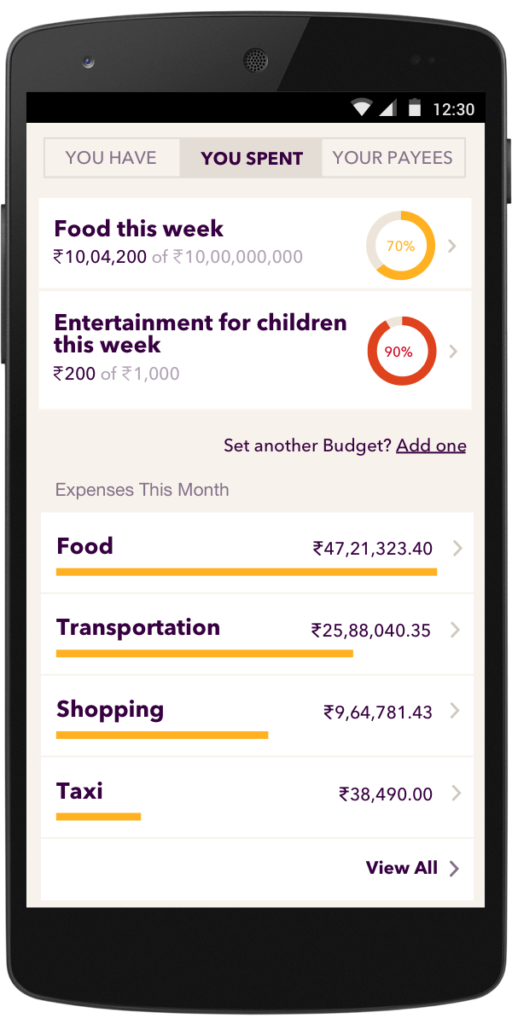 Ability to link goal based recurring deposits from the app
Getting Started with Digibank – Interested users can download the digibank app from Google Play or AppStore. Once installed, just hit the Start button and select "Open E-Wallet". Now you need to enter your basic information such as name, date of birth, phone no. and email address. An OTP will be sent after which the user just need to set a username and password. Voila! Your digibank e-wallet account will instantly open which you can upgrade to Savings account whenever you want.
Users can then add funds to their digibank e-wallet using net-banking, debit card or account transfer. One can also view the details of virtual VISA debit card that comes with a limit of Rs. 10,000 per month. There is an option to temporarily block the card for up to 60 days. The e-wallet also lets you recharge your DTH or mobile, transfer funds, make various type of bill payments and scan BharatQR code to pay instantly.
Converting eWallet to digiSavings – To do so, tap on "Open DigiSavings" while you're logged into e-wallet. Then enter your 12-digit Aadhar number followed by PAN number. Then you'll be asked to choose your profession, income source, salary range, and nominee (optional). After that, a reference number will be provided for biometric verification that you can get done at any branch or partner store (CCD) in cities with DBS branches.
When compared to Kotak's 811 digital banking, digibank offers more value and benefits. For instance, digibank has an interest rate of 7% as compared to 6% provided by Kotak 811. It takes relatively lesser time of around 90 seconds to open a digibank account than a 811 which takes 5 minutes. Though, virtual debit card is offered free by both but Kotak charges for a physical debit card. Furthermore, digibank offers unlimited free ATM withdrawals whereas Kotak 811 charges for cash deposits and withdrawals at branches and ATMs. Unlike 811, with digibank there is no requirement of additional paperwork after the account is opened. It should also be noted that Kotak's 811 account has a maximum limit of Rs. 1 lac only while digibank doesn't have any such restriction.
Try out DigiBank and don't forget to share your views!