Recently, Google added the functionality to show tab thumbnail previews in Windows 7 taskbar in the latest development build of Chrome. This feature may be pretty annoying, when you have mass number of tabs opened, and get a separate preview for each individual tabs running in chrome.
Here is an easy way to Turn off Chrome tab previews in Windows 7 taskbar –
1. Navigate to C:\Users\username\AppData\Local\Google\Chrome\Application\
2. Right click on "chrome.exe", select Properties > Compatibility, and select Windows Vista (Service Pack 2) from the drop down menu. Click Apply > OK.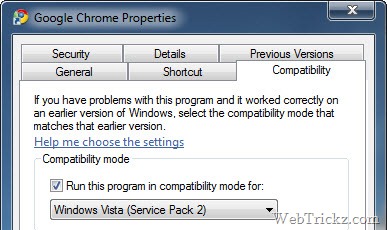 Alternatively, you can right-click the chrome icon (on desktop) to do this task easily.
The ability to display previews for each tab in Chrome will now be disabled, as it wasn't present in Vista. 😀 This is only a temporary workaround, chrome team is working on a better solution. Also See: