DMGConverter – Free tool to create & convert Disk Images
DMGConverter is a highly intuitive Disk Image (.dmg, .cdr, .iso) create-and-convert tool for MAC OS. It is a very useful tool for the collective processing of more than one file and every folder, and it can deal with all the fundamental processing with the drag & drop of the file/folder.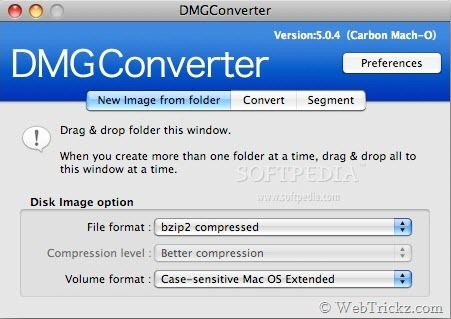 Highlight Features:
Create new image from folder (DMG, CDR, ISO)
Convert existing image to other supported format.
Convert existing image to segment image.
Resize existing read/write image.
Check image checksum.
Show image and Image format information.
Simple and easy to use Interface.
DMGConverter is freeware.
Requires PowerMac G3 with Mac OS 10.4 or later.
Download DMGConverter Free   via   [Softpedia]