AVG, which is most popular for its free Antivirus software has released the new AVG Antivirus Free Edition 10.0 (2011). AVG free Edition is the most downloaded software on CNET Download.com which is now estimated to be about 110 Million. [Free for personal and home use only].

AVG Anti-Virus Free Edition 2011 offers many new features. The most noticeable new feature is "upgrading its Basic Antivirus & Antispyware Engine to the same as that present in the Paid version of AVG Antivirus & internet security suite." The other noticeable feature is the AVG social networking protection which helps to scan the links present in social networking site Facebook and Twitter and provides the rating, PC Analyzer is new in this Free Edition & allows to Scan for registry & disk errors. It includes a disk defragmenter and broken shortcut cleaner. But the PC Analyzer does not repair the detected errors which is present only to the paid users of AVG Internet security.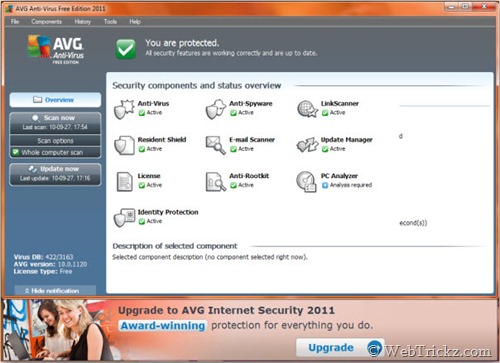 A Desktop Gadget has been added for the users of Windows 7 and Vista, through which one can perform scan and update the program.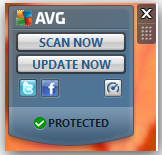 AVG Free Edition 2011 Features:
Core protection (Antivirus and Antispyware) similar to one present in paid version.
Surf & Search with confidence using AVG Link Scanners Real time protection.
Stay protected on social networking sites with AVG social network protection.
Enjoy a faster running PC with AVG Smart Scanning which works while you're away and runs in low-priority mode when you return.
Stay up-to-date with the latest threat information from the AVG Community Protection Network and AVG Protective Cloud Technology.
Download AVG Antivirus Free Edition 2011 (v10.0) (Offline Installer/Setup)
Compatible with Windows XP, Windows Vista and Windows 7 (32-bit & 64-bit).