Today, Internet is a must have service which is being used all over the world. Beside many uses of Internet it also has some disadvantages. When you access any websites, your browser keeps a spy on your work and interrupts your security.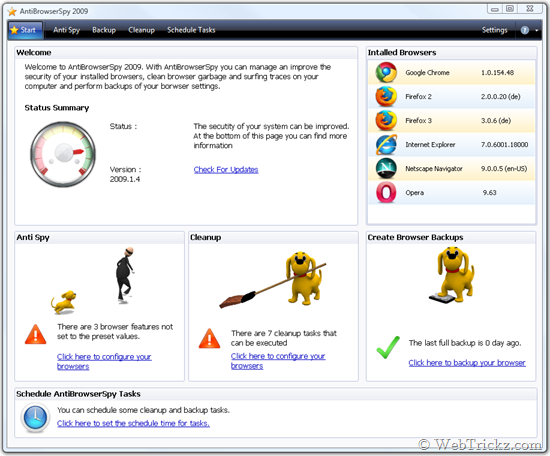 AntiBrowserSpy is an application which stops web browsers from spying their users and manages your security at work. It stops your browser to gather important data like: Internet addresses, downloaded files, Unique ID's and other private information.
It also lets you to remove internet traces easily such as history entries, web cache, Download-Lists and typed URLs may also be cleansed. AntiBrowserSpy contains a cookie manager to view and protect specific cookies.
Get CBE AntiBrowserSpy 2009 FREE
ComputerBild.de is now providing a special version of AntiBrowserSpy 2009 (COMPUTER BILD Edition) absolutely Free. This free version includes all features but doesn't allow you to Create backups of your browser settings and Auto-cleanup feature.
How to get code and Register:
Download and Install the program. After running the app, A registration window will open. Enter your name and email address in the provided field. Then click on "unlock code free of charge request" and you will get an e-mail with the unlock code.
Copy the unlock code and paste into registration window and click on "free unlock".
AntiBrowserSpy supports major browsers like Internet Explorer, Firefox, Opera, Chrome, Safari, etc.