Back in March last year, Piriform announced that CCleaner will be coming to Android. Well, the wait is somewhat over now as Piriform has released the beta version of CCleaner for Android! The CCleaner Android app is available for free from the Google Play store, you need to simply join their beta community on Google+ to download it. This release comes after months of R&D and involves a huge amount of testing and feedback from users.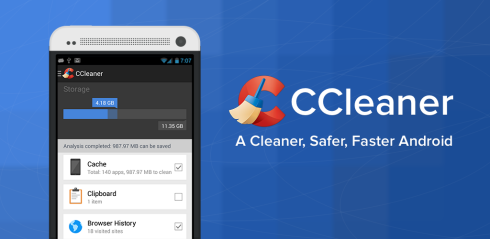 The current feature set offers optimizing and cleaning tools to boost your Android device and reclaim storage space. This includes:
Optimize – Browser History, Application Cache, Clipboard and more
Clean – Call Logs and SMS messages individually, in bulk, by age or by contact
Reclaim storage space by quickly removing unwanted applications
Monitor your CPU, RAM, storage space and battery levels
As said, they're working on new tools that will be included in the future updates, such as:
Process management and RAM cleaning
Custom folder cleaning
Features for rooted devices
To get CCleaner for Android:
1. Join Beta Community
2. Become a Tester
3. Download CCleaner from the Play Store
As a tester you will receive test versions of CCleaner through app updates. Test versions may be unstable and contain bugs. You can leave the test at any time. After leaving, you need to uninstall the test version and reinstall the regular version from the Play Store.