Echofon is a popular twitter client or app for Firefox, iPhone, and is now available for Mac too. Its full release will be announced later this year, but you can use its beta release for Free at this time.
Echofon for Mac provide a beautiful and subtle interface to your Mac desktop. It allows users to easily view their twitter timeline, messages, replies, favorites and search results. The new Retweet feature is also there allowing you to make and see other's Retweets.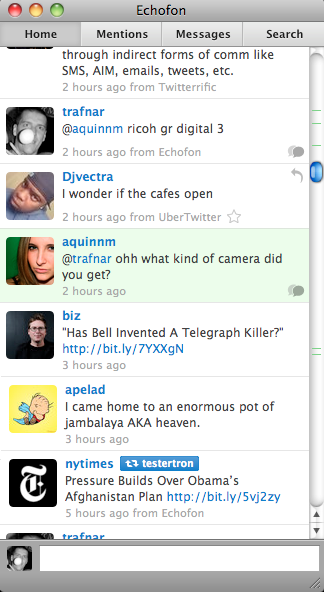 You can optimize the refresh time and font size under settings. Photos can be uploaded by just dragging and dropping them onto the Echofon window.
Echofon's unique browser-like drawer lets you view information about specific users, or read conversations from within your timeline. It can sync unread tweets with Echofon pro on your iPhone and can send instant notifications to Echofon iPhone users.
Supports – Mac OS X 10.5 or later
Download Echofon for Mac   [Webpage]