Firefox 1.1 is released for Nokia N900 which runs on Maemo platform. Firefox 1.1 for Nokia N900 is packed with your favorite features and great improvements, polished user interface and improvement in UI responsiveness and performance.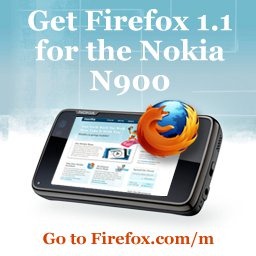 Highlights include:
Firefox lets you browse in landscape and portrait mode
Volume rocker lets you zoom in and out
Personalized Start page helps you pick up where you left off
Add-ons auto-update and you can view the full add-on gallery
Fill out forms more easily with autocomplete improvements
Smart Tapping lets you tap on links, widgets and other Web content with accuracy
Context Menu lets you Open in New Tab and Save Image by long tapping and holding a link
Save to PDF in the Site Menu lets you capture important content, like a receipt or boarding pass, to view offline or access quickly
Forget Password in the Site Menu tells a website you no longer trust to forget your private data
Add Search Engine in the Site Menu lets you quickly add a new search engine to your Awesome Screen
Firefox for Maemo is available in over 30 languages, with more platforms and languages on the way. Visit Firefox.com/m on your Nokia N900 or Nokia N810 to download it.