Norton 2012 Security products, Norton Internet Security 2012 and Norton AntiVirus 2012 were released a week ago. Symantec offers a 30-day trial on their main products but you can easily get a Free 90-day Subscription of Norton Antivirus 2012. This is due to an exclusive offer for Microsoft customers but anyone can avail it.
Norton Antivirus 2012 offers powerful protection against viruses and spyware.
Detects and eliminates viruses and spyware before they reach your computer
Lets you email, chat and share files without worry
Won't slow down your computer or disrupt your work and play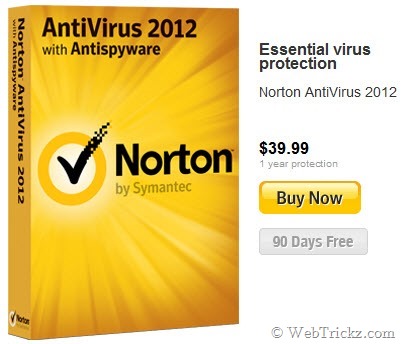 Key Features include:
Norton Protection System – provides four unique layers of powerful protection to proactively stop online threats before they can infect your computer.
Insight – checks where files came from and how long they've been around to stop new online threats before they can cause you trouble.
Download Insight 2.0 – protects you from dangerous applications by telling you if an application may harm the health and stability of your computer before you download it.
SONAR 4 Behavioral Protection – monitors your computer for suspicious behavior to more quickly and accurately detect and stop new threats.
Norton Management – is cloud based so you can download, install, transfer, update or renew Norton products from anywhere right over the Internet.
Network threat protection – detects threats as they travel over a network and eliminates them before they can reach your computer.
Browser protection – smart protection springs into action as your browser begins to load to stop online threats before they can do any harm.
Vulnerability protection – stops cybercriminals from using security holes (vulnerabilities) in applications to sneak threats onto your PC.
Bandwidth management – limits non-critical Norton updates when you connect to 3G networks so it won't eat up your monthly data allotment or cause overage fees.
Norton Pulse Updates – updates your protection every 5 to 15 minutes – without disrupting you – for up-to-the-minute protection against the latest threats.
Get Norton Antivirus 2012 Free for 90 Days [OEM Subscription]
This is an OEM English version 19.1.0.28 which does not requires any activation key or registration. Just open the above page and click on '90 Days Free' button. You will then get a direct installation file. Just download, install, and Enjoy it Free for 3-months!
Norton Antivirus 2012 supports Windows XP, Vista and Windows 7