Angry Birds, the highly popular game was recently released for Windows 7 & Windows XP via Inter AppUp Center. Angry Birds by Rovio for Windows costs $4.99 which is not a small price tag. Don't worry, we have something special for our readers!
Surprisingly, Currys and PC World are offering Angry Birds game for Windows as a Free download for everyone. You will be able to get it free throughout February via PC World or Currys, as long as stocks last.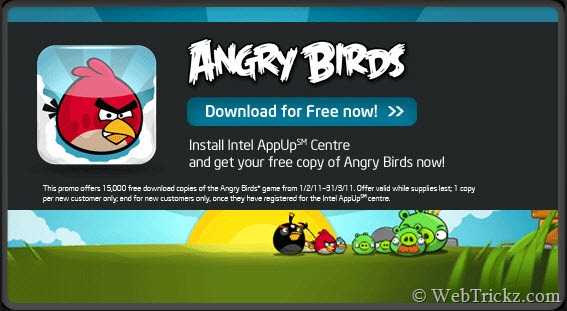 Gary Hearns, Senior Catagory Manager said: "We are really excited to be giving away free copies of Angry Birds for use on netbooks, laptops and desktops– we expect them to fly so recommend gamers get in there quick to get their copy."
To download Free Angry Birds for Windows, just access one of these portals: www.currys.co.uk/appstore or www.pcworld.co.uk/appstore. Click 'Download for Free now!' button and you will be asked to download and install the Intel AppUp center.
After installing Intel AppUp Center, you need to create an account at Intel AppUp if you don't have one. Now open Intel AppUp, Sign in and get you free copy of Angry Birds.
Note: At this time when I tried to sign up at Intel AppUp, it presented the following error "Sorry, we were unable to process your request. Please try again."
Do share your views if you're able to try out this amazing game on Windows. 🙂