Dhingana.com is a very popular online music service which allows users to listen a vast collection of Indian music online absolutely Free. The website offers a wide range of music which comprises: Bollywood Songs, Bollywood Pop Songs, Bollywood Remixes, Hindi Ghazals, Hindi Bhajans, Marathi Songs, Punjabi Songs, Bhangra Songs, and more.
The recently released Dhingana Official iOS app is currently available as a FREE download while their old iPhone music app still costs $3.99. Grab it now for Free!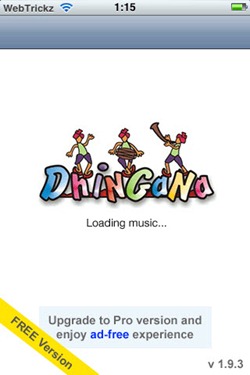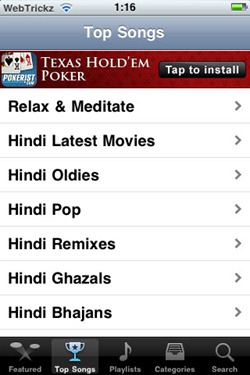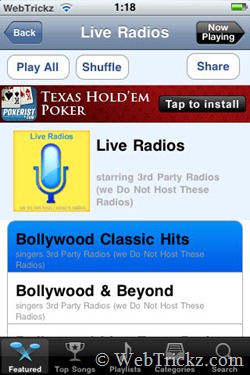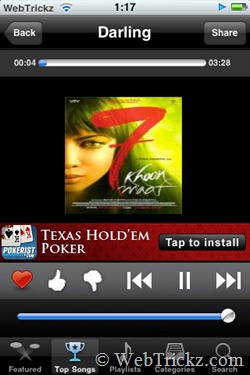 Dhingana is the ONLY Indian music streaming app that offers unlimited interactive streaming AND 24×7 non-stop radio channels from all major Indian music languages & genres. Experience Indian and Bollywood Music in high quality from your iPhone!
FEATURES:
Listen to 24×7 non-stop radios from 20+ music stations for different languages or genres like Hindi, Oldies, Tamil, Telugu, Malayalam, Devotional, Meditation and many more.
iOS 4 multitasking! Play Dhingana tracks while doing other things with your phone. NOTE: Only iPhone 3Gs, iPhone 4 and iPod Touch (3rd generation) support multitasking.
Use the apple headset/headphone remote and lock screen buttons to control Dhingana playback
Go Social !! Share your songs, albums & playlists with your Facebook & Twitter friends and post your favorite music to your Facebook & Twitter profile page directly from the app.
Listen to songs & radios from different languages or genres like Hindi, Oldies, Marathi, Tamil, Telugu, Malayalam, Sanskrit, Punjabi, Bhojpuri, Bhajans, Ghazals, Pop, Remixes, Relaxation, Meditation and many more.
Like, Unlike & favorite songs. Dynamically create playlists of songs you like and favorite.
Highly optimized streaming technology which will allow you to experience quality music over EDGE, 3G and Wifi connections.
Login using your Facebook Account.
Directly email songs, albums & playlists to your loved ones.
Search and discover new songs all the time.
Search for songs, albums and playlists. Search by actor name, singer, year, song or movie name.
The awesome "Play All" & "Shuffle" features allow you to play any number of songs one after the other.
Listen to "Top Songs" from all the different genres.
Listen to playlists created by you, your friends or anyone from the Dhingana.com community
Browse the complete music collection from Dhingana.com alphabetically on your iPhone.
Supports incoming phone calls. If a call is missed or declined, music streaming will continue from where it left.
Compatible with iPhone, iPod touch, and iPad. Requires iOS 3.0 or later
Download Dhingana App for iPhone  [iTunes Link]