Earlier today, Google has released its own Google PDF Viewer onto the Google Play Store. This app is compatible with phones, phablets, and tablets. We used the app for a bit and seems to be simple and fast with some handy options. However, there are some issues as well which we will list towards the end. For now, here are some of the key things that the PDF Viewer can do!
View PDFs – You can open a PDF from an email or any location on your phone using Google PDF Viewer. For the first time ever it may prompt you to set it as a default but you can also choose to pick a PDF viewer every time you want to view a PDF as well.
Options Menu – There is a tiny list of options that Google PDF Viewer provides and you can bring this up using the stack of dots at the top and here is what you can do:
1. Send file – you can use this option to SHARE the pdf to others via a huge list of options that range from Bluetooth to email clients and such. This is indeed a handy option and most likely the most to be used.
2. Print – This option provides you the ability to shoot a pdf to the printer but they have to be set up well ahead.
3. Report an issue – Since this is the first release of the app and we already see few bugs and maybe Google too anticipates them, there is a handy Report an issue option that you can use to send one directly to Google.
4. About this Viewer – The protocol About page.
Search – A very handy Search option sits at the top and quickly brings up the results by highlighting them. At times it did stutter but overall it did work well. Maybe Google needs to do some refinement here and we are sure it will be done.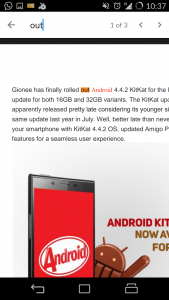 Issues Observed – Apart from the stutter during the search, after you've downloaded the app, there is no ICON that shows up! If you were to go to your Google Play Store app and check for the app, the 'OPEN' button itself is missing. We did report this issue from our end, apart from various users who have started whining about it. If only the icon came up, we would have been able to test other aspects like searching for a pdf via the app and such. We will keep a tab on this and update you once those fixes come up! For the moment, Google PDF Viewer comes off as a simple, to-the-point app. We cannot start comparing it with Adobe PDF Viewer until we have the issues fixed.
If you in the meanwhile want to try this app out, go ahead and download it here.