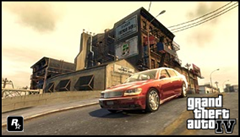 The most popular and exiting game Grand Theft Auto IV by Rockstar is arriving on the PC on December 2nd and 3rd in North America and Europe, respectively.
The Official site has introduced a download section for Icons, Wallpapers, Posters, Screensavers , Widgets, Avatars, Mobile Ringtones, etc.
Till the games arrives you must have a look at the Official Wallpapers of GTA IV released by Rockstar.
There are 20 wallpapers available for Free in many sizes given below:
Widescreen:  2560×1600 , 1920×1200 , 1680×1050 , 1280×800
Standard:  1600×1200 , 1280×1024 , 1024×768 , 800×600
Handheld:  Blackberry , PSP , iPhone