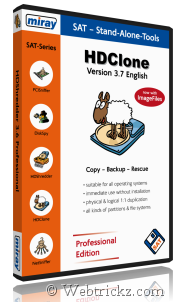 HDClone is a Free software that copies complete contents of hard disks and other IDE/ATA/SATA, SCSI, and USB media on a physical level. It allows to create backups for migrating an existing OS installation to a new hard disk.
In combination with the special 'Safe Rescue' mode of HDClone, this technique is also perfect for rescuing data in case of defective hard disks.
HDClone works independent of partition layout, file system and operating system (ie. it works with FAT, FAT32, NTFS, etc.). Besides copying complete drives, it is also possible to apply it to certain partitions only.
The download package contains HDClone as a Windows application and as a self-booting application. You can easily create a bootable HDClone/S CD/DVD on Windows with only few mouse clicks. A floppy image, ISO image, and manual (PDF) are also enclosed.
Download HDClone Free   [Size: 10 MB]