Download Internet Explorer 9 Beta Product Guide

So, IE9 Beta is finally released with a new interface and advanced features. Here is an official 90 page product guide/manual which gives detailed information about the new features in IE9, will help you in getting started and easily understand most of the useful features of Internet Explorer 9 Beta.
This product guide outlines new features in Internet Explorer 9 Beta, highlights the top features, and provides additional information on features specific for end users, developers, and IT professionals. Read on to learn more about how Internet Explorer 9 unlocks the Beauty of the Web.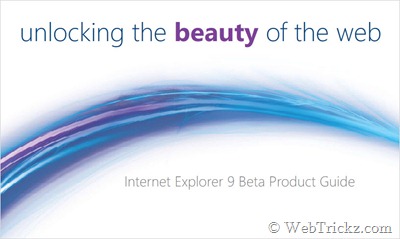 Supported OS: Windows 7, Windows Vista, Windows Server 2008 & Server 2008 R2
Internet Explorer 9 Beta Product Guide [PDF]  26 MB
Internet Explorer 9 Beta Product Guide [XPS]  8.1 MB