Fragmentation is the main cause for slowdown of Windows system after a certain time period. You can increase speed of your PC like before by defragmenting your system. Defragment of hard drive may take a long time but it pays off too!
Smart Defrag is a 100% Free and intelligent defragmentation software which offers handful number of options and features. It is too fast and extremely easy to use.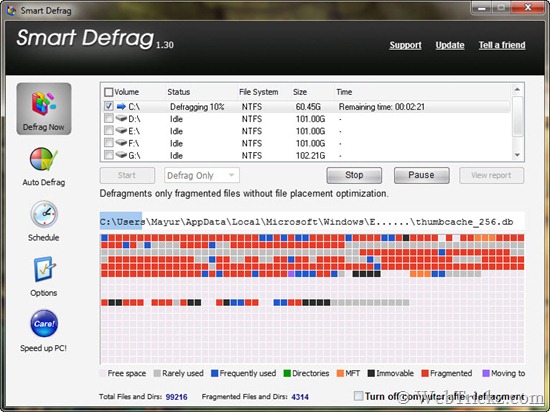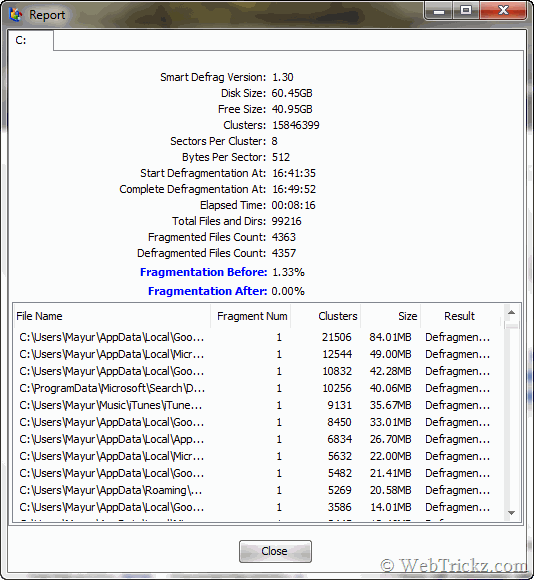 Key Features:
Includes the world's fastest defragmenting engine.
Designed for modern, large hard drives, so it eliminates long waiting times.
Optimize Disk Performance
Smart Defrag works automatically and quietly in the background.
Data Safe and Reliability Guaranteed
Handy Options:
Choose between Defrag only, Fast optimize and Deep optimize
Auto Defrag – Defrags the system drive when computer is idle. You can also customize its settings and Disable it.
Scheduler – To defrag automatically at a particular time.
Can Skip files larger then 100 – 500MB, 1GB, 2GB, 5GB, and 10GB.
Turn off computer after Defragment
View full Report
Designed for Windows Vista, XP, 2000 and Windows 7
Note – The program asks to install IObit toolbar which can be ignored during installation.
Download IObit Smart Defrag  [Freeware]  [Webpage]