Download Microsoft .Net Framework Cleanup tool
Nowadays, Microsoft .Net Framework is a must required utility which helps in running the new and upcoming applications. But if you want to remove it due to Incomplete or corrupted instillation of .Net framework that may create issues with your Windows, then here is a simple and free tool.
.Net framework cleanup utility is an automated cleanup tool to remove the .NET Framework 1.0, 1.1, 2.0, 3.0 and 3.5 and All versions in a single step.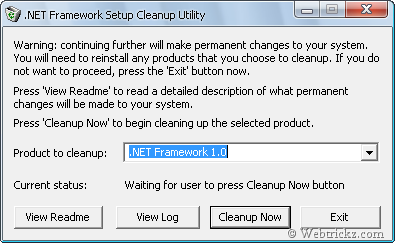 It removes only corrupted .net Framework without interfering with working .Net. and removes beta version also. This will work properly on all Windows operating systems beginning with Windows 95. Download it below: