Download iTunes 10 with Ping Social Network
The new iTunes 10 was introduced yesterday by Apple in their special event, which is now available as a free download. iTunes 10 comes with a cool new logo, new features like Ping social network and other improvements.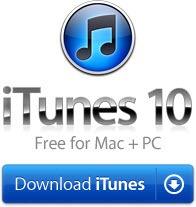 What's new in iTunes 10 –
Ping, a new music-oriented social network which lets you follow your favorite artists and friends to discover what music they're talking about, listening to and downloading. iTunes Ping lets you post your thoughts and opinions, your favorite albums and songs, the music you've downloaded from iTunes, plus view concert listings and tell your friends which concerts you plan to attend. Ping for iPhone & iPod touch requires iOS 4 or later.
HD TV show rentals – With iTunes 10, you can rent your favorite HD TV shows commercial free from ABC, ABC Family, Fox, Disney Channel and BBC America and watch them at home or on the go for just 99 cents an episode.
AirPlay wireless music playback – AirPlay wireless technology will be arriving inside speakers, AV receivers, and iPod accessories — making it possible to enjoy your entire iTunes Library — every song and every playlist — in every room.
Apple TV – The sleek new Apple TV is back for your entertainment. It's 80 percent smaller than the previous generation. Apple TV now gives you the world's largest selection of HD movies and HD TV shows to watch on demand.
Improved syncing – iTunes 10 has improved syncing which is faster and offers better ways to sync and organise your media from computer to your iPhone, iPad, or iPod. There's a new capacity bar that tells you exactly how much space you have left on your device in real time.
Download iTunes 10 [Direct Links]
Mac users can download @ http://www.apple.com/itunes