Kaspersky Lab recently announced the release of 'Kaspersky Virus Scanner for Mac', a light version of Kaspersky Anti-Virus 2011 for Mac, specially designed to protect Mac users against all types of malware. The security application is now available to buy at Mac App Store for $9.99 only! Requires Mac OS X 10.6.6 or later.
Kaspersky Antivirus Scanner is designed to protect Mac systems from malware. It scans to detect and remove both Mac and non-Mac viruses using an updated malware database that ensures protection against latest threats. When not scanning for viruses, it will use no Mac CPU processing power ensuring maximum performance for your daily tasks. It's very simple to use and lets you scan when it's convenient for you. Offers 3 scanning modes – Full scan, Quick scan and Virus scan. KVS for Mac also includes Security Assistant – the service allows analyzing and neutralizing detected threats.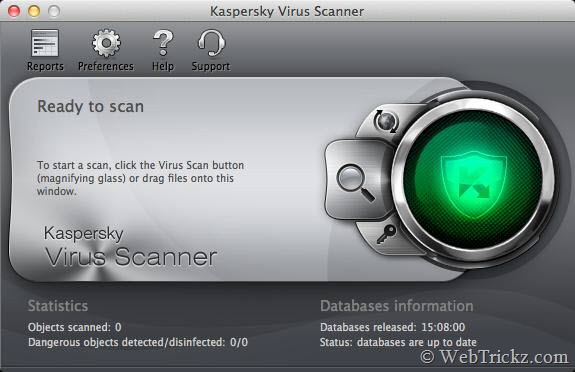 KVS Security Features:
Protection against viruses, Trojan programs, worms, bots and botnets.
Protection against spyware, adware, etc. using threat signatures.
Heuristic analysis allows detecting suspicious objects and objects which are infected by unknown or new modifications of known threats.
Application's databases and modules are automatically updated.
Kaspersky Anti-Virus 2011 for Mac and Kaspersky Virus Scanner for Mac appear same as both their interfaces are similar but KVS includes only the most significant features in comparison to Kaspersky Anti-Virus for Mac. Check their comparison below: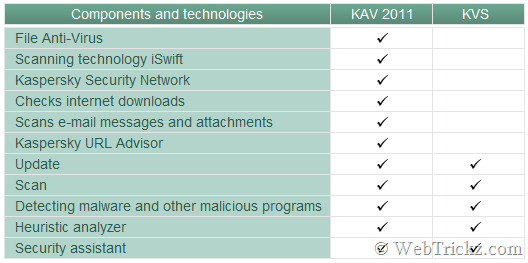 Kaspersky Virus Scanner for Mac does not requires activation. Just purchase it from the Mac App store, you will see its icon in dock stating the downloading and installation process. Once it is installed, launch the application by clicking on its icon from dock.
Download Kaspersky Virus Scanner [Mac App Store]