Recently, Microsoft Office 2010 was released to manufacturing (RTM) and available for Pre-order. Microsoft is now providing a set of product guides which can let you easily get started with new Office 2010 and explore its new features.
The Office 2010 product guides provide an overview of what's new and improved in your favorite Microsoft Office programs and a deeper look at benefits across all Office 2010 programs, as well as Office Web Apps and Office Mobile 2010. Each guide provides instructions to help you find the features you want quickly and easily.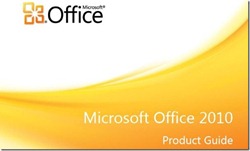 Individual Guides are available in XPS & PDF formats for Office 2010 products like: Access, Excel, InfoPath, Office, Office Mobile, Office Web Apps, OneNote, Outlook, PowerPoint, Publisher and SharePoint.
Download Office 2010 Official Product Guides
Thanks IntoWindows