Official ESPNcricinfo Free App – Get Live Scores/Updates/News/Photos/Schedule of Cricket World Cup 2011 directly on your iPhone and Android devices!
ESPNcricinfo has just launched its official app for iOS and Android devices to keep mobile users updated about the latest News of upcoming ICC Cricket World Cup 2011. The ESPNcricinfo app is available as a free download and cricket fans must grab it now to stay updated with World Cup 2011 action and cricket coverage from around the world.
The standout features of the app include a dedicated World Cup section, an enhanced live game experience, easy personalisation options and Push alerts. iPhone and Android users can also access their favourite magazine content, ranging from Ask Steven columns to opinion pieces from the game's leading writers.

The app will also allow users to watch and listen to the latest ESPNcricinfo video and audio podcasts. The new ESPNcricinfo app offers push notifications, a unique Lean Back mode functionality and much more.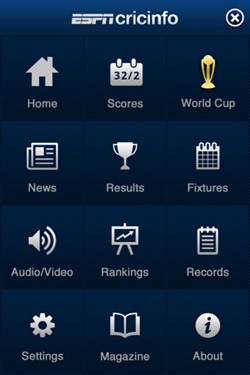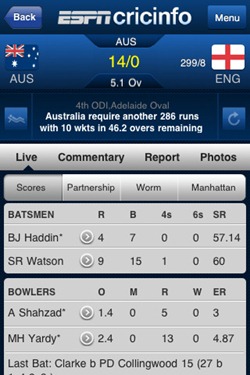 Full feature list –
Live game coverage – Commentary, scorecard, match graphics, photographs, reports and player profiles from every international game.
'Lean back' mode – Switch the app to lean back mode, place your iPhone/iPod Touch on your table and follow live scores throughout a busy work day.
Push notifications – Get instant alerts for wickets, batsman milestones and score updates during live matches.
World Cup 2011 – Dedicated cricket World Cup 2011 section featuring squads, standings and stats and exclusive video content.
Personalisation – Customise the innovative Cover Flow based homepage by your favourite team.
Video/Audio – Watch and listen to the latest ESPNcricinfo video and audio podcasts.
Magazine – Read from a selection of the best features from ESPNcricinfo Magazine
News, Results, Fixtures, Records and Rankings
Compatible with iPhone, iPod touch and iPad. Requires iOS 3.0 or later.
To download the app on your Android device, just open the Android market and search for 'ESPNcricinfo'. Install the app for Free!
via  [ESPNcricinfo news]
Also See: Get Live scores of Cricket matches on iPhone with 'Yahoo! Cricket' [Official Free App for iOS]