Opera software has finally released 'Opera Mobile for Android OS' which is the most popular and full-fledged Internet browser for mobile platforms. The first public beta of Opera Mobile 10.1 is now available for Android phones as a free download in 18 versions.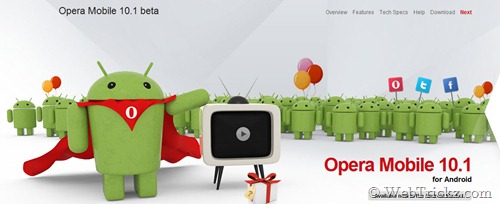 "Android users now have a better choice when it comes to using a browser on their mobile devices," said Lars Boilesen, CEO, Opera Software. "With Opera's new browser for Android, we give users the opportunity to access the Web, using the best tools available."
This new version of Opera Mobile features old favorites such as Opera Turbo and Opera Link. It also introduces a brand new feature to Opera Mobile, pinch-to-zoom. Find the perfect level of zoom for your viewing pleasure without compromising speed or data compression while using Opera Turbo.
Opera Mobile 10.1 beta for Android Features:
* Easy tab management with visual tabs
* Opera Presto rendering engine
* Sync your bookmarks across devices with Opera Link
* Ability to be set as the default browser
* Geolocation support
* SVG support
Download Opera mobile from Android market or by visiting m.opera.com/next on your device or use the QR code below:

Also See: Download 'Opera for Android' Mobile Wallpapers