If you like to have an awesome collection of Wallpapers for your desktop, there here is an amazing app, which can provide both standard and Widescreen wallpapers.

Dream Desktop is a small program that allows users to free download a collection of over 5,000 high-quality wallpapers. The app includes a variety of fantastic high-resolution wallpapers from various categories and in multiple screen resolutions.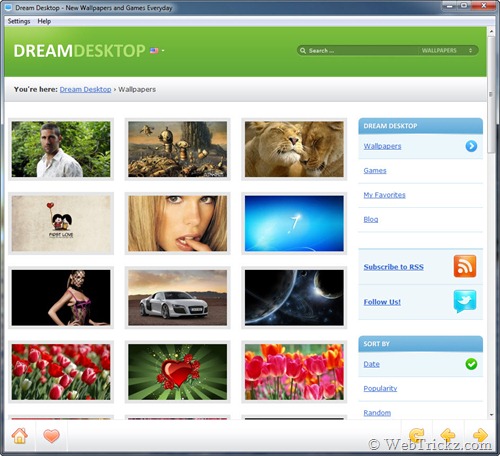 Wallpaper categories include Abstraction, Animals, Babes, Celebrities, Computers, Games, Movies, Nature, Cars, Space, 3D, Anime, Sports, Music, World, etc.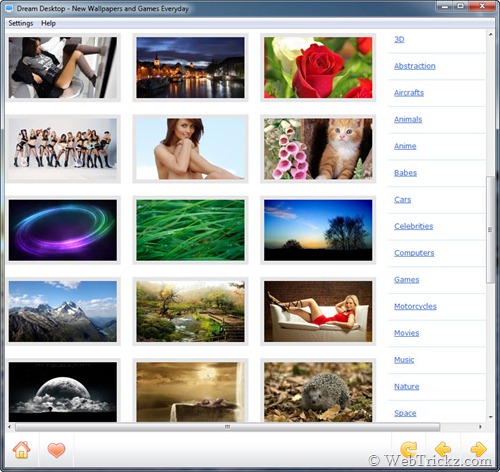 It also offers a nice feature to automatically change wallpapers randomly from your favourites or from specified categories. You can also set the desired time interval to change the wallpapers.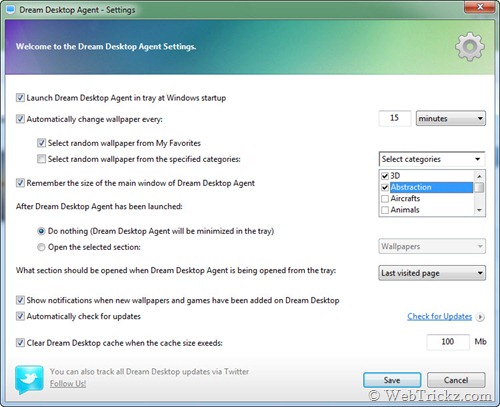 Dream Desktop Features:
Browse wallpapers by categories, tags or search wallpapers by keywords
Automatic change of wallpapers at specified intervals
Get notified when new wallpapers are added
Add favourite wallpapers to Dream Desktop Favorites for instant access
Regular updates – new wallpapers every day!
Sits quietly in the system tray (No Pop-ups or Ads)
To download wallpapers in a click, just click the "Add to favorites" icon. Navigate to C:\Users\Username\AppData\Local\Dream Desktop Agent\favorites under Windows, where you see all those wallpapers.
Download Dream Desktop Agent (Windows XP, Vista & Windows 7)
I'm really impressed with this app. Do give it a try!!