Backup & Recovery 10 Free Edition is the most powerful FREE backup solution by Paragon, available for Home users (Non-commercial use only). It's the best software which allows users to take/create complete backups, schedule backups, restore drives and manage hard drive partitions too.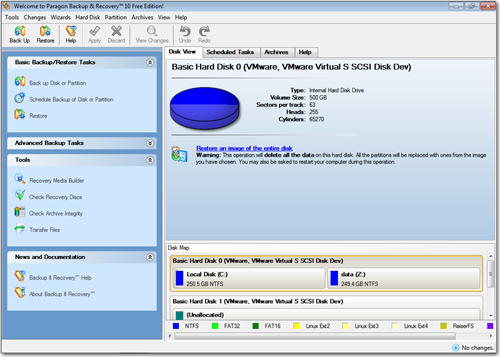 Advanced Features:
Create an exact copy of your PC including the operating system, applications, user settings and all data
Backup data to external storages, CD/DVD/Blu-ray discs and networks
Complete Restore – restore your computer to an earlier state without losing data and reinstalling and reconfiguring your programs.
Restore an entire disk, separate partitions or only files from created backups
Create a bootable USB Flash drive – recover your PC on demand
Partitioning tools – Create/Format/Delete/Hide/Unhide Partition
Windows 7 compatible
This smart backup software is available Free for both 32-bit and 64-bit Windows.