Download Portable Edition of Mozilla Firefox 3.1 Beta 1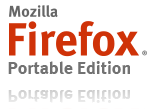 PortableApps has released the portable version of Mozilla Firefox 3.1 Beta 1, which allows you to test all the latest features in the upcoming version without disrupting your current Firefox installation.
Firefox 3 Beta 1 is a developer preview release of Mozilla's next generation Firefox browser and is being made available for testing purposes only. If you're looking for the stable version, please head to the Mozilla Firefox, Portable Edition.
Download Portable Edition 3.1 Beta 1