Download Returnil Virtual System 2010 – Free Security
RVS 2010 is a completely new and free product that uses a combination of antivirus, antimalware and a virtual system to protect your computer from all types of viruses and other malicious threats. It uses an advanced anti-malware and virtualization technology.
What's Special –
RVS clones (copies) your operating system and creates a virtual environment for your PC. Instead of loading the native OS, a clone is loaded that allows you to run your applications and perform your online activities in an entirely isolated environment.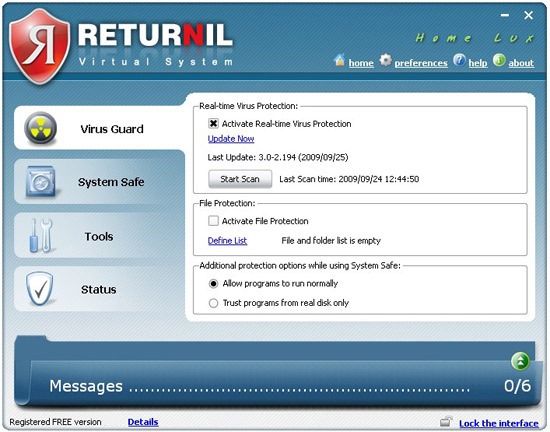 RVS Highlights –
Complete protection from both known and unknown viruses and other malicious software
Eliminate Trojans, viruses, adware, spyware and undo unwanted changes with a simple restart of your system
Real-time protection on-the-fly
Retain changes to your documents and other frequently edited content
No need to defragment or optimize your hard-disk
Protect your system while you are surfing or working in "the cloud"
Supports: Windows XP, Vista, Windows 7, Server 2003 & 2008 (32-bit/64-bit)