Sonarca Sound Recorder is a powerful and free sound recording software, which lets users easily record various sound input to WAV and MP3 audio formats. It supports multiple sound input, audio/video files playback, CD player, line in, microphone, internet radio, tape/VHS cassette or anything else.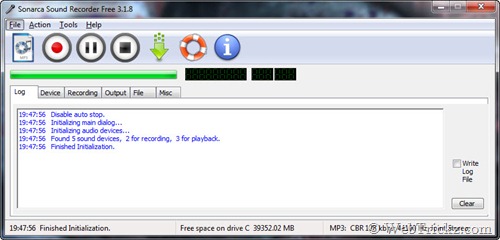 Key Features:
CD quality sound recording.
It uses latest Lame MP3 encoder which is generally believed as the the best MP3 encoder in the world.
On-the-fly recording, no temporary file generated.
Intuitive output file management.
Diagnose and print detailed sound device info.
Supports majority of modern sound cards: multi channel/professional/external USB sound cards.
Supports several sound cards at the same system.
All events are logged for future diagnosis.
Windows Vista compatible and works with Windows 7.
An Advanced version of Sonarca Sound Recorder 'XiFi' is also available which supports more features and multiple output formats. Comparison chart
Download Here (1.08 MB)