TweakNow PowerPack 2009 is a freeware with fully-integrated suite of utilities that lets you optimise and maintain every aspect of your computer's operating system and Web browser.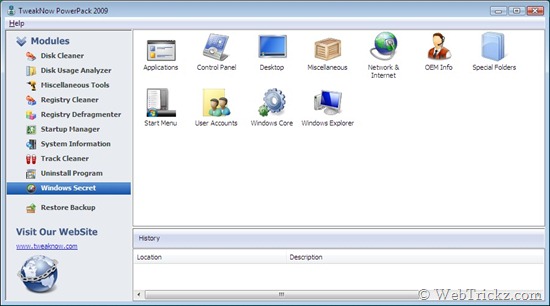 It comes bundled with tools like: Disk Cleaner, Disk Usage Analyzer, Registry Cleaner, RAM Optimizer, Registry Defragmenter, Startup Manager, System Information, Track Cleaner, and Uninstall Manager.
Other features included are:
RAM Idle program manages the free memory that is available to run Windows programs.
Auto Shutdown program lets you suspend, hibernate, or shut down your computer after a specified period of time.
Virtual Desktop program lets you run as many as four custom-designed desktop configurations simultaneously.
It's a simple utility to tweak and optimise your system as per your requirements easily.
Download TweakNow PowerPack   [ Windows Vista/XP ]