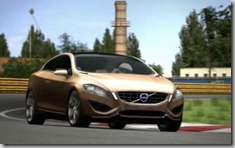 Volvo is Free racing game released by Simbin and Volvo.  'Volvo – The Game', contains various Volvo cars that can be raced on two tracks.
The Game offers a rich choice of cars as players along with the most famous racing cars in Volvo's history.
Among modern STCC touring cars such as the C30 and the S60, the game includes the BTCC-proven Volvo S40 and two real legends – The 850 and the 240.
The 2 tracks includes Swedish Gothenburg Eco Arena and Chakya, an Ukrainian road course.
You also have the chance to win great prizes and beat SK Gaming Racers by entering the worldwide competition organised by Volvo.
Download: Volvo – The Free Racing Game (589 MB)    via    [ Sk-gaming ]