The Microsoft Windows 7 Calculator can perform all of the functions of most four-function (standard) or scientific calculators, and that's all about it in term of features.
Windows 7 Calculator has added a new mode of calculation, i.e. Programmer and Statistics, and beyond that, more importantly, improves on the user interface of the calculator to make it inline with much-improved display appearance of a modern computer system.

The new Windows 7 Calculator now has 4 different modes :
Standard Mode
Statistics Mode
Programmer Mode
Scientific Mode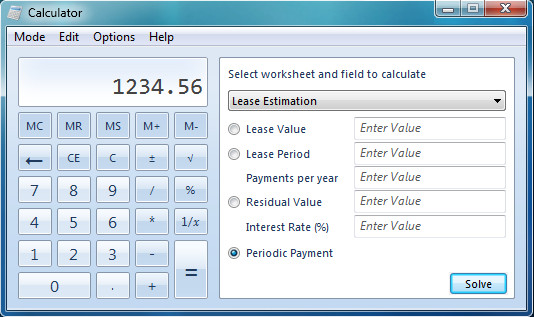 The calculator has been ported from Windows 7 pre-beta build 6801.
You can just extract the files from the rar archive and double click on calc.exe to start using it or, you can replace your existing calculator of Windows Vista with this one. Just follow the steps below:
copy calc.exe to C:\Windows\System32\
copy calc.exe.mui (in en-US folder) to C:\Windows\System32\en-US\