Windows 7 RC has been released and millions of people are too excited to work on it. If you are unable to try out Windows 7, then you can use its visual style. I've found a Cool Windows 7 visual style for Windows Vista, which gives an exact view of Windows 7 New Interface. Also, it doesn't require any installation of transformation packs.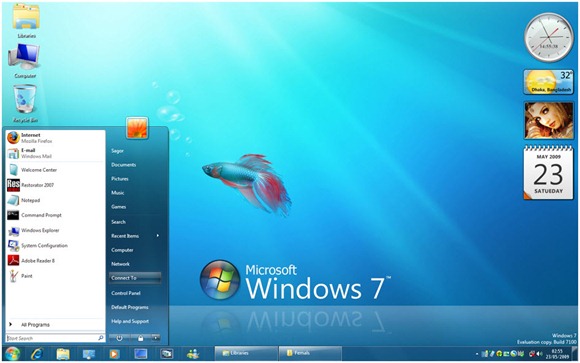 The Pack Includes Visual Styles, Wallpaper, and ReadMe & Instructions.
How to use it? Just Unpack the 'Windows Se7en ' folder & copy to C:\Windows\Resources\Themes(where C is the partition with Windows installed). Change the visual style by clicking any .msstyle file.
Requirements: Windows Vista SP1 x86 with an Aero Compatible PC.
This Skin also Includes –
Perfect big frame buttons.
Perfect glass frames just like windows 7.
Perfect taskbar size.
Perfect tray icons.
Perfect taskbar & Quick launch Buttons (Latest).
Perfect windows 7 start orb (Latest).
To use 3rd party themes in Windows Vista, check out this post:  Unlock vista for custom themes [Vista Glazz]
Download Windows 7 Visual Style for Vista   via  [sagorpirbd from deviantart]