Until now, the most popular free dictionary app available for Android was Dictionary.com but that's no more the case as "WordWeb", one of the best Dictionary and Thesaurus software for Windows is now officially available for Android devices. Like its Windows version, WordWeb for Android is a powerful, efficient, and feature-packed application. Certainly, WordWeb is the best dictionary app currently available for Android because – it's completely free, without any adverts, and works offline without requiring an internet connection. This all makes it an excellent and must-have app for Android users.
WordWeb Dictionary for Android is a free Offline English dictionary and thesaurus with definitions, synonyms, related words, and great search. Its intelligent word entry suggests possible correct spellings as you type, as well as lists words that sound the same. One can click on other related words in a definition to explore their meanings and can easily navigate through the recent searches made using the arrow buttons on top.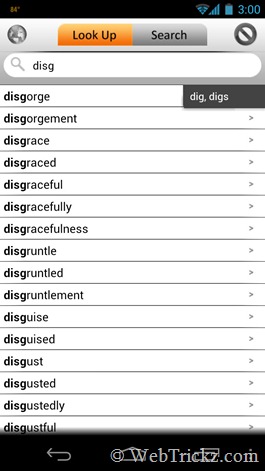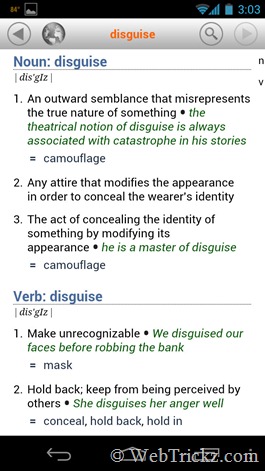 WordWeb also offers Full Bookmark support (add and manage bookmarks), history (shows the list of all search queries), and random words which all are accessible from the menu options. The 'Settings' allows you to toggle and customize a whole lot of options like region and display settings, etc. Additionally, you can use Online References like Wikipedia, Wiktionary, and Answers.com to get more info about your query.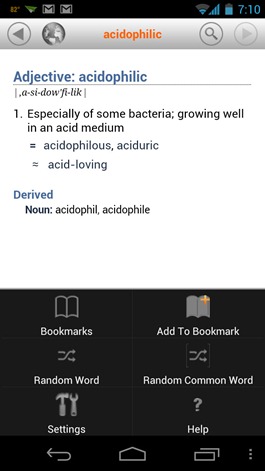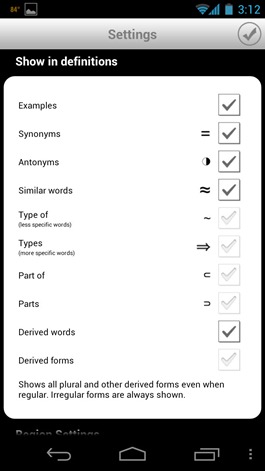 WordWeb dictionary comprehensive database includes:
– 285,000 words, phrases, and derived forms
– 225,000 word sense definitions
– 70,000 usage examples
– 85,000 text pronunciations
– Synonyms, similar and related words
– American, British, Canadian, Australasian, and Asian English
Search features include:
– Alphabetical listing
– Spelling suggestions
– Fast pattern-matching search (*, ?, vowel and consonant)
– Filter search results by noun, verb, adjective, adverbs
WordWeb Dictionary for Android is really awesome and responsive. Do try it out!
Note: The app will ask to download a database of around 27MB after being installed.
Download Here [Android Market]