Yahoo! has today released a new beta of Yahoo Messenger 11 which is now available for free download. Yahoo! Messenger is a popular Instant messaging client and the new beta version make it more exciting.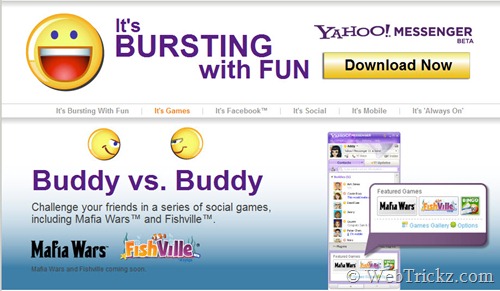 Apart from instant message, text, and making voice and video calls, you can now play most popular social games brought by Zynga, Elex, and OMGPOP right within Yahoo! Messenger. These games include:
Fishville and Mafia Wars from Zynga – Coming soon
Balloono, Pool, Draw My Thing from OMGPOP
Happy Harvest & Happy Manor from Elex
Yahoo! Messenger 11 allows you to manage all your social networks from one place and stay connected with a groups of friends across various social networks.
Keep up with friends wherever they are – View, comment on and like updates from Yahoo! Pulse, Flickr, Facebook, Twitter, and more, all from one place, right within Yahoo! Messenger.
Post one status to multiple social networks – Share your Messenger status simultaneously on Yahoo! Pulse, Facebook, and Twitter.
Chat with Facebook friends – In addition to your friends on Windows Live, you can now IM your Facebook friends right within Yahoo! Messenger.
It supports PC, iPhone, and now Android so you can stay connected anytime, anywhere. Make free video calls, and share photos and videos between different devices and converse virtually anywhere. You can stay signed in to multiple PCs simultaneously and can easily access recent conversations from any PC.
Try it now! Download Yahoo! Messenger 11 Beta
Download Standalone Installer of Yahoo! Messenger 11 Beta v11.0.0.1751 (16.2 MB)
via [Techie Buzz & Yahoo! messenger blog]
UPDATE –  Yahoo! Messenger 11 Final now available [Download]