If you are a BSNL Broadband (Dataone) user and want to check your BSNL Internet usage through software, then Dataone Quick Usage Finder (DQUF) is for you.
Dataone Quick Usage Finder (DQUF) is a free and handy utility to quickly find the total usage for BSNL's broadband service "Dataone".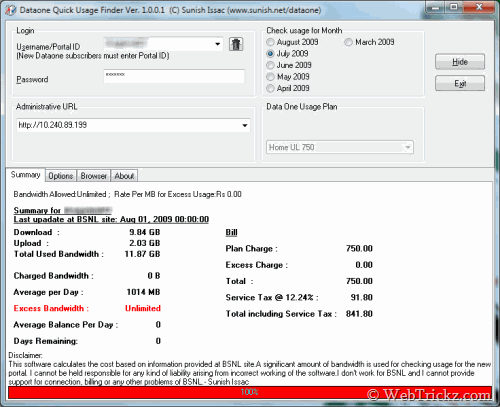 The new beta version of DQUF is now released which adds support for new combo plans, multiple account checking, and for new Portal ID users at http://bbservice.bsnl.in.
Key Features:
Works both for Old users and new Portal ID accounts.
Track your bandwidth usage without opening any sites.
More reliable statistics, as it's the same as what BSNL provides on their site.
Dialup Connection and disconnection scheduler for Night Unlimited Plans
Auto-detect Plan and usage limit according to the plan subscribed
Shows your Total Bill including service tax
Note: Message by BSNL,
Dear Customers, bbservice.bsnl.in will be discontinued on 21st August 2009, you are requested to use http://www.data.bsnl.in for usage details, password change and profile update.
Download Dataone Quick Usage Finder  (453 KB)
You can also use DUF (Dataone Usage Finder) but it doesn't work for new accounts i.e. Portal ID