Easily find Large size files & folders with Folder Size
Folder Size is a small but powerful FREE utility which allows users to easily locate the large sized files and folders residing on their Windows system. It analyzes your hard drives and display the file and folder sizes in different charts – Bar Chart, Pie Chart etc.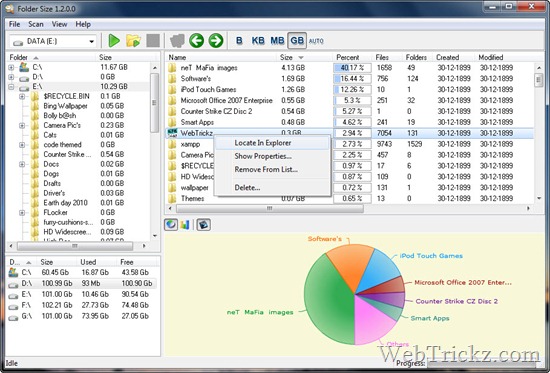 Charts shows the size of the folders and files in percentage, so that you can easily check the distribution of your disk space. The application can scan entire hard drive in minutes due to its optimized scan algorithms. Besides scanning an entire hard drive Folder Size can also scan a single folder in order to save time. It also shows all the hidden files and folders from your HDD and will scan the sizes of all the subfolders.
Supports: All Microsoft Windows