Generally, there is no easy way to pin folders to taskbar in Windows 7 which many users may prefer to do. Also, files with .exe extension can be only pinned to Windows 7 taskbar. Here is a small tool which provides an easy way to overcome this restriction.
Windows 7 Taskbar Items Pinner is a free portable tool developed by Kishan Bagaria of door2windows that allows you to pin files, folders & webpages to your Windows 7 taskbar. This tool lets you pin any file of any extension, any folder & even webpages.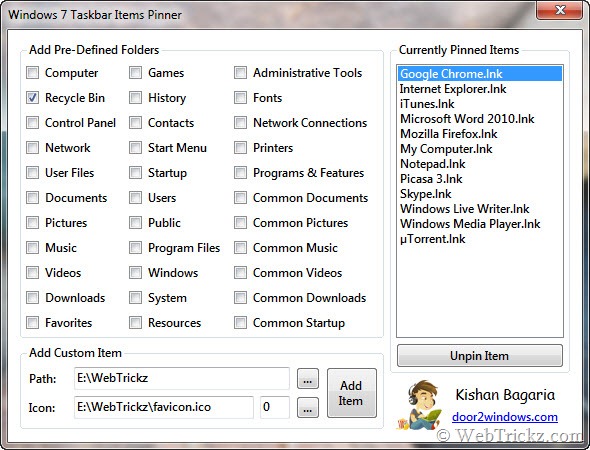 One can also select the pre-defined items like Computer, Games, Control panel, etc. to pin them instantly on taskbar. It also shows the list of pinned items which you can unpin.
You need to specify an icon in order to pin any file or folder. Also, make sure to run this tool in Administrator mode (Right-click and select 'Run as administrator').