Unlike Windows 7, Vista Ultimate included Windows Ultimate Extras like DreamScene.
Windows 7 DreamScene Activator is a small freeware portable app which allows users to activate and use DreamScene in Windows 7 too. The tool supports both 32-bit and 64-bit versions of Windows 7 and requires just a single click to enable DreamScene.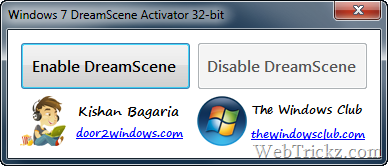 By activating dreamscene, you can use any video, Windows format or dreamscene as a desktop background. Just right click on the desktop to play or pause a DreamScene!!
You can download hundreds of animated backgrounds from Stardock's Web site.
Download Windows 7 DreamScene Activator    via  [The Windows Club]
Note: Right-click the tool and Run as Administrator.