The new iOS 4 brings some special features like Multitasking and Background Wallpaper but they're only available for iPhone 3GS and iPod touch 3G users. If you're a iPhone 3G or iPod touch 2G user who has upgraded to iOS4 and want these features, then just see the easiest way below to get it on your idevice.
Note: You need to have a Jailbroken iPhone 3G or iPod touch 2G with iOS 4 to get this. See this guide to Jailbreak your iOS4 device with Jailbreakme.
Just open Cydia and search for ztoggle. Confirm and install the app. Now open zToggle from homescreen and easily choose your preferred options. Using it, you can switch to multitasking and enable homescreen wallpaper option in a few clicks. You can also revert back if you like to disable these features.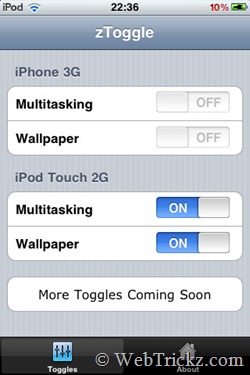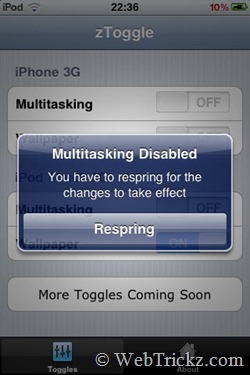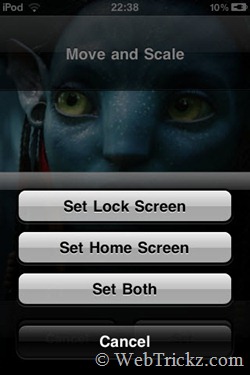 Toggles for Multitasking and Background Wallpapers. No need to use redsn0w or Pwnage tools to toggle Multitasking and Background Wallpapers. This app will let you do that in seconds right from your iDevice.
Note that this app is only for iPhone 3G and iPod touch 2G. Also note that, multitasking may slow down the speed and performance of your device.
Update: The updated version 3.0 of zToggle supports iPhone 3GS and iPhone 4.