Evernote, one of the best and full-fledged notetaking app for major platforms has now acquired Skitch. Skitch is an amazing Mac application packed with efficient features to capture, annotate and share images. Evernote team is also working to integrate Skitch with Evernote so as to let users easily draw, ink, grab screenshots, annotate and share their photos. Furthermore, Evernote has plans to polish Skitch, add new features and desires to make Skitch available on every desktop and mobile platform.
Luckily, Evernote has made Skitch Free for Mac! The full version of Skitch, which used to be $19.95 in the Mac App Store, is now completely FREE! There are no more trial versions, no more ads and no more restrictions, either.
New users can sign into Skitch with their Evernote credentials. Existing Skitch users can continue to use their Skitch.com accounts.
Skitch is a smart and easy-to-use app that allows you to quickly take Screen capture, crop, resize, sketch and share. With the free built-in skitch.com image hosting, Skitch is the fastest and easiest way to share your work and your life.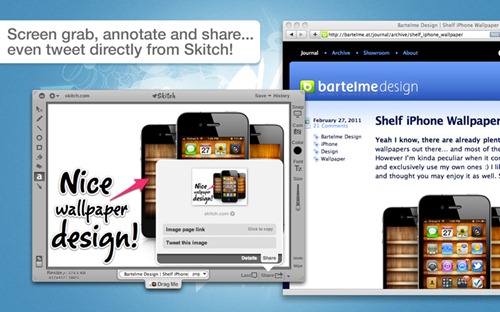 Key Features:
Screen grab your desktop, web browser or apps
Annotate with pen, text, shapes and arrows
Instantly upload to skitch.com, Flickr, FTP & .me
Resize, crop, rotate & flip images
Capture full length (longer than your screen) websites
Take photos with your built in webcam
Open and save in many different image formats
Archive and re-use images from your Skitch history