Acronishas developed a free and useful tool which notifies users about their hard drive condition and helps them prevent the loss of most important and invaluable data stored on their HDD, which can occur in case the Hard disk fails.

Acronis Drive Monitor is a Free Hard Drive Monitoring Tool which monitors and determines the health of your hard disk drives installed on server, workstation and PCs. It is always advisable to check the health status of your Hard disk regularly because sometimes Hard drives fail after 2-3 yrs or before without giving any notification.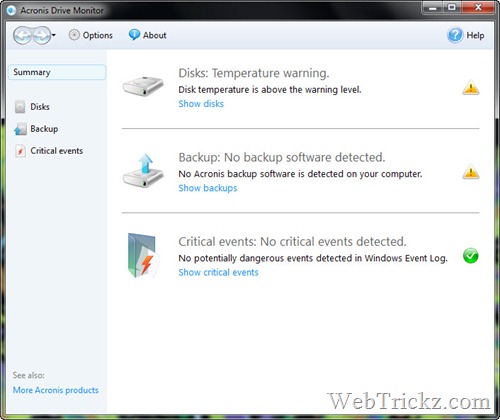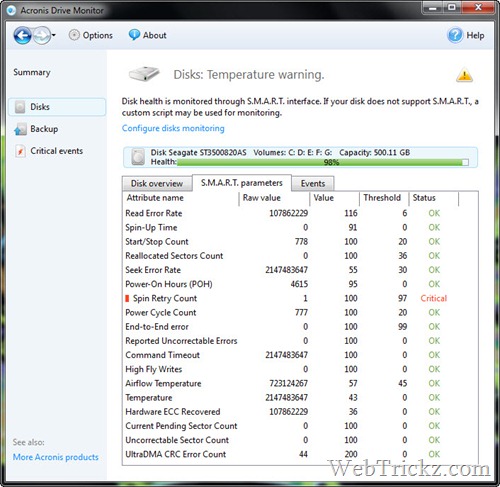 Key Benefits:
Automatically checks for disk problems – Monitors state and health of physical drives via S.M.A.R.T. parameters (including temperature, seek error rate, spin-up time and more than 20 other indicators) and displays the status
Monitors critical events that indicate a risk to data safety – Unless noticed early, these problems may become more severe and lead to partial or complete data loss
Automatically receive warning alerts – Get immediate notification of early warnings of drive malfunctions in order that preventive actions can be taken
State of disk backups – Be alerted if your latest backup has failed or if you haven't created a backup for a while.
Weekly status Reports – Stay current about electromechanical health of all drives with weekly reports.
Download Here  (17.4 MB)      via [TroubleFixers]