Facebook Android app has just got updated with added ability to save photos to your phone from the photo viewer. This was certainly a much needed feature as now you would be able to save your favourite pictures from Facebook to your Android phone or tablet, directly to the device itself, anytime and anywhere! Though, we've earlier shared as How to Save Photos from Facebook App on Android, but that workaround required installing a 3rd party app from Google. Now that Facebook has added the option to save images on Android, it will be a lot easier and helpful for smartphone users.
How to Download Photos from Facebook Android App to Phone –
1. Update to the latest version of Facebook for Android. (version 3.5)
2. Open the Facebook app for Android and view any desired image that you wish to save. Now tap the Menu option (3 dots) and click on 'Save photo' option.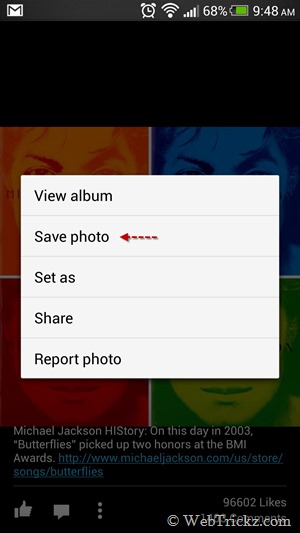 The image will instantly be saved to your gallery in the 'Facebook' folder. However, the images will appear in the Camera shots folder on the HTC One.
Alternatively, you can find the saved images in the directory: /sdcard/DCIM/Facebook