Apple has today released a big update for Final Cut Pro X and alongside its trial version for users who would like to taste the software beforehand. Among all the new features included in Final Cut Pro X update, the biggest is support for XML. This adds the option to both import and export projects and events in the XML format. The new features in version 10.0.1 makes Final Cut Pro X even more flexible, powerful, and compatible.
The introduction of a Free 30-day trial for Final Cut Pro X is a nice initiative by Apple that provides users the opportunity to try this expensive and professional video-editing software before making a $300 purchase. To get a free trial of Final Cut Pro X for your Mac, just visit www.apple.com/finalcutpro/trial and enter the required info. You will then be able to download its free fully-functional trial, valid for 30 days.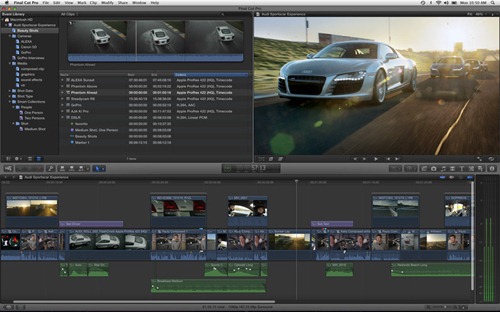 What's New in Version 10.0.1
This update improves overall stability and performance and adds the following features:
Export audio and video stems as a single multitrack QuickTime movie or as separate files using Roles.
Import and export XML to support third-party workflows.
Place Projects and Events on Xsan to improve collaboration between editors.
Set custom starting timecode for your projects.
Add transitions to connected clips in a single step.
Enable full-screen view in OS X Lion.
Speed up delivery with GPU-accelerated export.
This update is recommended for all users of Final Cut Pro X
Final Cut Pro X 10.0.1 is available at the Mac App Store. [Download Here]