Retweet is a new feature recently introduced by Twitter. The Retweet (RT) feature helps users to quickly share the information which they find interesting, over to their followers in one click.

Today, I was looking for a way to find out who Retweeted my tweets and just thought of sharing it with our readers too. Check below:
1. Log in to Twitter and open the Twitter homepage.
2. Click the Retweets option in the right sidebar.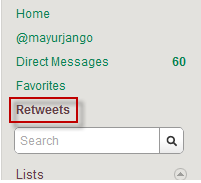 3. You'll now see 3 columns – what's been retweeted by people you follow, what you've retweeted, and who retweeted your tweets!

Just select any column and you'll see the user profile avatar by whom it was retweeted.
Follow me @mayurjango on Twitter
Update – You can visit this link http://twitter.com/#retweeted_of_mine to directly see who retweeted your tweets, and http://twitter.com/#retweets to see retweets by you.
Update 2 – See who Retweeted your tweets in New Twitter [How To]