Now you don't need to search all over the web in order to find the right Jailbreaking or Unlocking tool for your iPhone, iPod Touch & iPad. Jailbreak matrix gives a detailed view and makes it easy to determine, which software can be used to jailbreak or unlock the firmware of your idevice.
The chart from Jailbreak matrix tells which jailbreaking/unlocking tool is right for your iPhone (iPhone 4, iPhone 3GS, iPhone 3G, iPhone 2G), iPod Touch (3G, 2G, 1G) and iPad. It also provides the appropriate jailbreak and Unlock software for your device according to the device model, firmware, baseband and Boot loader.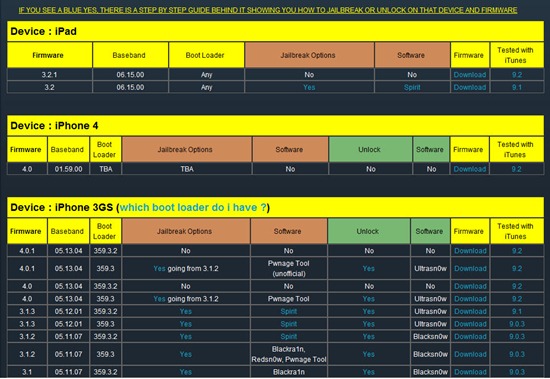 If you see a BLUE YES for your device, then there is a step by step guide behind it showing you how to jailbreak or unlock on that device and firmware.
Check Jailbreak matrix Full chart        (Thanks @lohhw3)