Earlier, Mozilla used to release new Firefox builds with a big time difference but lately they're in a rush to push Firefox to a higher build version. Seems they are trying hard to cope up with the build numbers of Google Chrome and IE. After releasing 6 beta versions of Firefox 7, the Final version of Firefox 7 is now available for download via their FTP site. Official announcement will go soon, get it for Windows, Linux and Mac!
Firefox 7.0 aims to enhance your browsing experience by improving one of its major drawback, i.e. high memory consumption. The latest and new Firefox 7.0 drastically improves the usage of memory (RAM) and is said to consume 20-30% less memory than former builds of Firefox browser.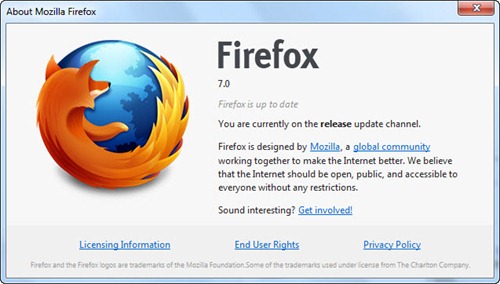 Changelog based on the recent beta of Firefox 7:
Vastly improved memory usage (up to 50% better) and increased speed
Added a new rendering backend to speed up Canvas operations on Windows systems
Bookmark and password changes now sync almost instantly when using Firefox Sync
Added support for text-overflow: ellipsis
Added support for the Web Timing specification
Added an opt-in system for users to send performance data back to Mozilla to improve future versions of Firefox. This can be enabled by installing an add-on
Fixed several stability issues
The Final build of Firefox 7 is scheduled to be officially released within 24 hours. You can download it now using the direct download links (English) below.
Update – Firefox 7 is now officially available in over 70 languages. Get it here.